Custom made orders process in 7-10 business days and then ship via USPS 1st class.
Please allow up to two weeks to receive your order after you check out.
If you order a product that is Ready to Ship, your order will ship within 1-2 business days via USPS 1st class.
Look for the Ready to Ship badge to understand what can be shipped right away.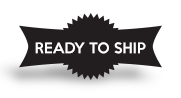 We ship all orders via USPS 1st class.
If you are located inside the United States you should receive your order within 2 weeks.
if you are located internationally, please allow 4 to 6 weeks to receive your order.
Each product is available in a variety of colors.  If you don't see the color you want, please contact us for a customization quote.
We happily supply frequent discount codes to our email subscribers.  Want a discount code? Get an instant 20% by clicking here.